Our-Infrastructure
One Destination for all Skin and Hair Problems is Skin and Hair Care Clinic in Bangalore at VitalsKlinic.
Skin and Hair Care Clinic in Bangalore, Welcome to one of the advanced, innovative, first of its kind multispecialty Dermatology Clinics located in the heart of the Bengaluru's Hot Spot run by an experienced, qualified and well-known duo dermatologist Dr Harish Prasad with a MISSION of a niche dermatology group practice with a focused area of interest and a VISION to provide result oriented and individualized treatment approach from specialists with expertise.
VITALS, the name of the clinic is an innovative expansion of the various treatments that is provided under one roof i.e.
Vitiligo
Injectable
Transplantation
Aesthetics
Lasers
Skin surgery/Skincare
transforming the life of unhappy patients giving satisfactory and better results.
Vitals is about 2000sq ft. built up area with modern and high standards infrastructure consisting of well-furnished Consultation Rooms(2), Procedure Rooms(2) with US FDA approved lasers like Diode, Q switched ND:YAG, Carbon-dioxide laser and newer technologies like Micro needling Radiofrequency, modern technologies in aesthetic dermatology , phototherapy room with a whole body phototherapy chamber , and an advanced, well equipped "Operation theatre" with finer instrumentation for dermatosurgery and well trained and disciplined staff with the selfless motto of providing Quality Service to patients all over India and Abroad.
Thanks to our Doctors who have successfully gained lost confidence and lost smiles on the face of patients where you can see all the BLUE in their life which is also the theme of our clinic. VITALS believe in giving best possible treatment by bringing the best and latest technology to patients in the field of Aesthetic Dermatosurgery and Cosmetic Surgery. We provide you Best Satisfied and Proven Solutions for the lost in "YOU". Skin and hair care clinic in Bangalore provides all types of skin and hair related treatments.
Waiting Area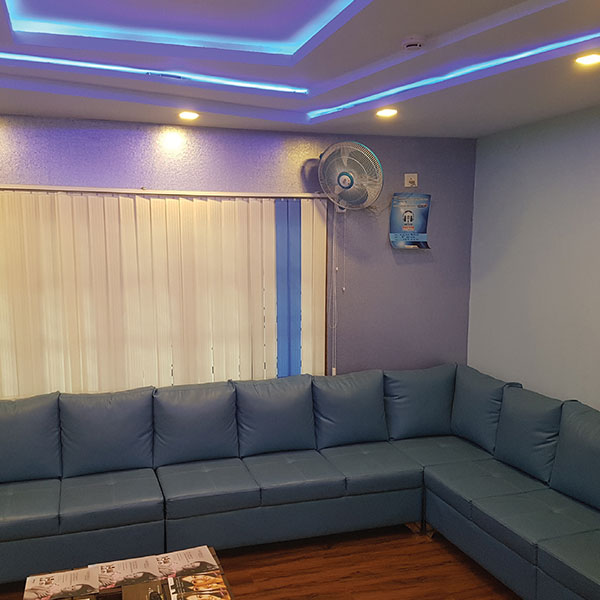 Reception
Procedure Room
Operation Theater
Procedure Room
3600 View of Skin and Hair Care Clinic in Bangalore
Our World-class Technology's
Visit Our BTM Clinic Today
Name: Vitals Skin and Hair Clinic
Address: 8th Main Road, 390,
7th Cross Rd, BTM 2nd Stage,
Bengaluru, Karnataka 56
Contact number: 92068 69610